The cooperation between World of Content and Red Bull is aimed at optimizing the online presentation of the energy drink manufacturer. This optimization takes place across all online channels, and is made possible by World of Content's PXM platform.
Increasing market share
It's nothing new that Red Bull has been one of the market leaders in the soft drink category for years. In order to maintain or even increase the current market share, it is important to pay attention to the product information available and how it is displayed on retailer websites and marketplaces. However, sometimes it is difficult to make adjustments to certain products, or to add new products. The PXM platform enables Red Bull to maintain control over this product data and ensures that new products are available online as soon as possible. But how exactly does this work?
Import - Enrich - Share
Broadly speaking, World of Content provides the necessary tools for Red Bull to import product content into the platform, then enrich it with A+ content, and finally share it with any channel it wishes. The status of this process can be monitored for each product through World of Content's advanced dashboard. Some components of this dashboard include completeness scores and incomplete products. These insights help Red Bull spot opportunities and take immediate action. By means of the integrated task management in the platform, Red Bull can easily assign tasks internally, so that all products are optimized as soon as possible and everyone is on the same page.
All about perfect content
Many know that Red Bull has a rock-solid marketing strategy and that they have plenty of knowledge when it comes to devising and producing content. Through content marketing, the company knows how to reach their target audience all too well. Collaborations with top athletes and more; everything has to do with the quality of the content. This is where World of Content's DAM (Digital Asset Management) system comes in.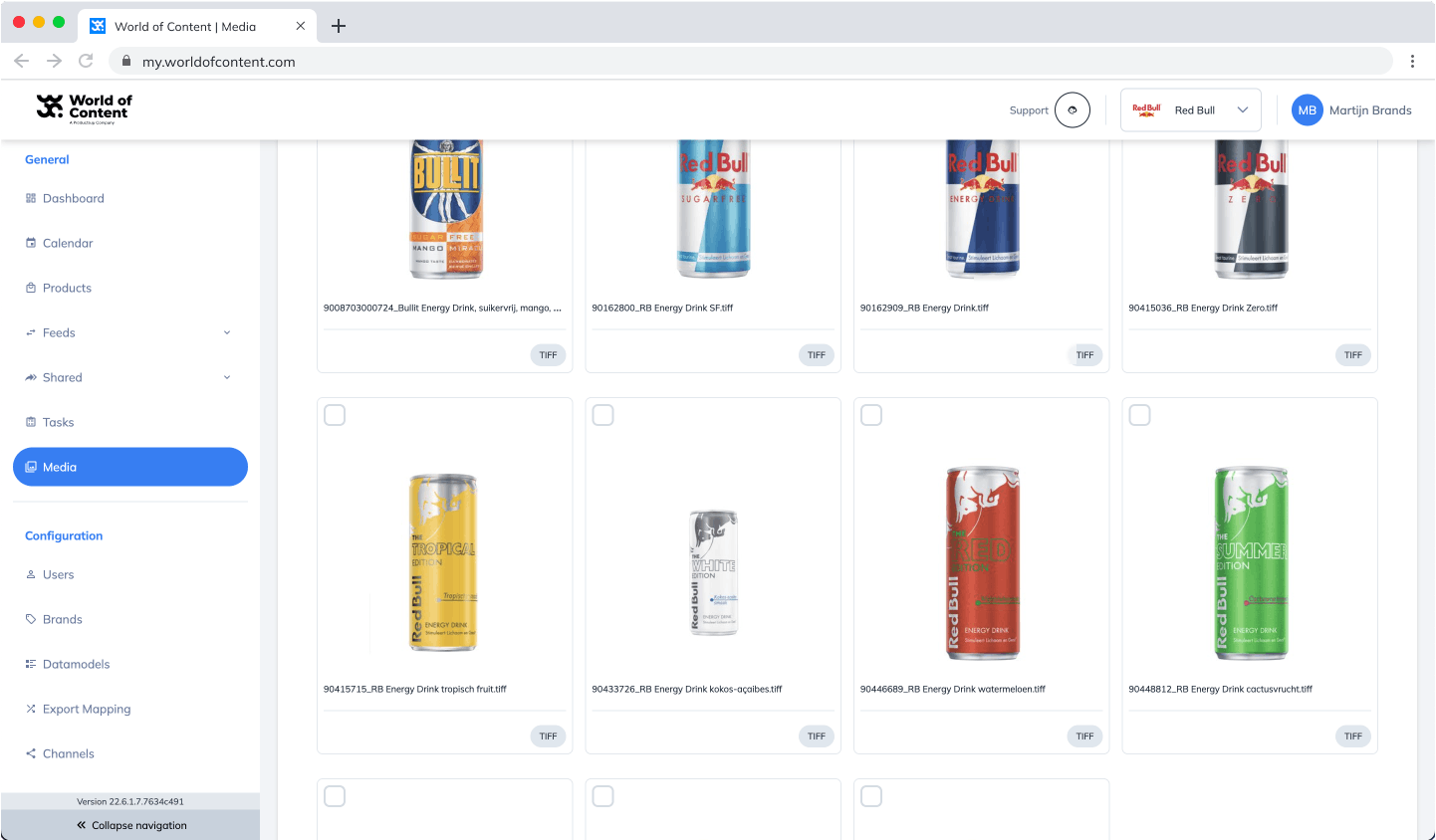 This tool helps Red Bull streamline the publication of content on retailers' websites. For example, they can link images, logos, designs and videos to certain 'collections', so that the various segments of the target group always see the most relevant content. This helps to increase online conversion and retention.
World of Content is more than proud to connect with such a big name as Red Bull: "From day one, we have developed our platform in such a way that it serves as an all-in-one e-commerce solution for all kinds of companies within FMCG, Health & Beauty, Pharmacy and Consumer Electronics," says Dominic van Waversveld, Key Account Manager at World of Content. "Now we see that more and more globally known brands are joining World of Content. This is something we are very proud of as a company. We are convinced that we can serve Red Bull optimally, both now and in the future."
About Red Bull
Inspired by functional drinks from the Far East, Dietrich Mateschitz founded Red Bull in the mid-1980s. He created the formula of Red Bull Energy Drink and developed Red Bull's unique marketing concept. In 1987, on April 1, Red Bull Energy Drink was sold for the very first time in its home market of Austria. This was not only the launch of a completely new product, in fact it was the birth of a totally new product category. Today, Red Bull is available in 171 countries and more than 75 billion cans of Red Bull have been consumed to date.
About World of Content
World of Content was founded with the goal of increasing online conversion and retention by making product information more dynamic and personalized. World of Content provides services to both brand manufacturers and retailers. World of Content's platform makes it possible to show consumers personalized product information based on gender, age or location. In addition, it is possible to show new information when someone has previously purchased a product. World of Content now represents over 1500 brands in the digital product space.