PXM 2.0, new collaborations, Productsup, Amazon Marketplaces and more!
The holiday season is behind us, Spring is around the corner and Q1 timetables are appearing out of thin air. A perfect time for a company to look back on the previous year. Because what a year it was! In this article we will share the most significant highlights with you. To make it easy we will do this in chronological order.
The launch of PXM 2.0
We started the year with an improved version of our platform, with a completely new look and feel, innovative features, advanced collaboration capabilities and much more. Since then, many other updates have been released, including the new product detail page, one data model and many, many small improvements.
Our development team is working every day to ensure that our platform is the best content management platform in the market and to provide you with the best syndication capabilities available. Keep an eye on us for all upcoming platform updates in 2023.
Introducing Product Experience Management to the Nordics
Although World of Content is a relatively young company compared to similar players in the market, we thought it would be a good idea to make a big splash at the D-Congress in Gothenburg. Here we introduced the Scandinavian market to our platform and all its features. This resulted in a lot of new business contacts in Sweden, as well as Norway and Denmark.
Follow us on LinkedIn to find out which events we will be attending this year!
We want you - Company video
We made a company video to give a taste of what it's like to work here. Did you miss it? Then watch it here!
Productsup's acquisition of World of Content
Without a doubt the biggest news of last year: the acquisition by Productsup, the leading product-to-consumer (P2C) software company. In case you missed this news after all, you can read all the details here.
An acquisition is not accomplished overnight. However, very big and successful steps have already been taken. As of January 1, 2023, the legal entity name of World of Content is Productsup BV. Until June 2023, the World of Content brand and related marketing communications will continue to exist. Follow us on LinkedIn, or subscribe to the newsletter to stay up to date on all developments regarding the acquisition.
Global presence for any brand with Amazon Marketplaces
Since the second half of last year, multiple use cases have made it clear that our platform offers the perfect solution to the often laborious product content syndication process to Amazon.
World of Content streamlines this process by handling the login, the global content delivery to Amazon, and the communication of all desired products and data. Want to learn more about the possibilities related to product content syndication to Amazon Marketplaces? Click here!
Unique partnership with GS1
World of Content was proud gold sponsor at the GS1 Belgilux Forum in October. Jan Somers, CEO of GS1 Belgium & Luxembourg, announced that World of Content is one of the best performing platforms in the market. Through our platform, all your data is automatically captured and made available in GS1 within 48 hours!
Koen Looijmans, CEO of World of Content: "We would like to thank GS1 for their trust in World of Content and our technology. We look forward to this partnership and helping all brand manufacturers and retailers in Belgium and Luxembourg."
New collaborations!
We like to end this recap with an overview of some of the bigger new names we've partnered with since last year. Some examples include Red Bull, Beiersdorf and Melitta. Take a look at our blog page for a full rundown of all the new collaborations from 2022!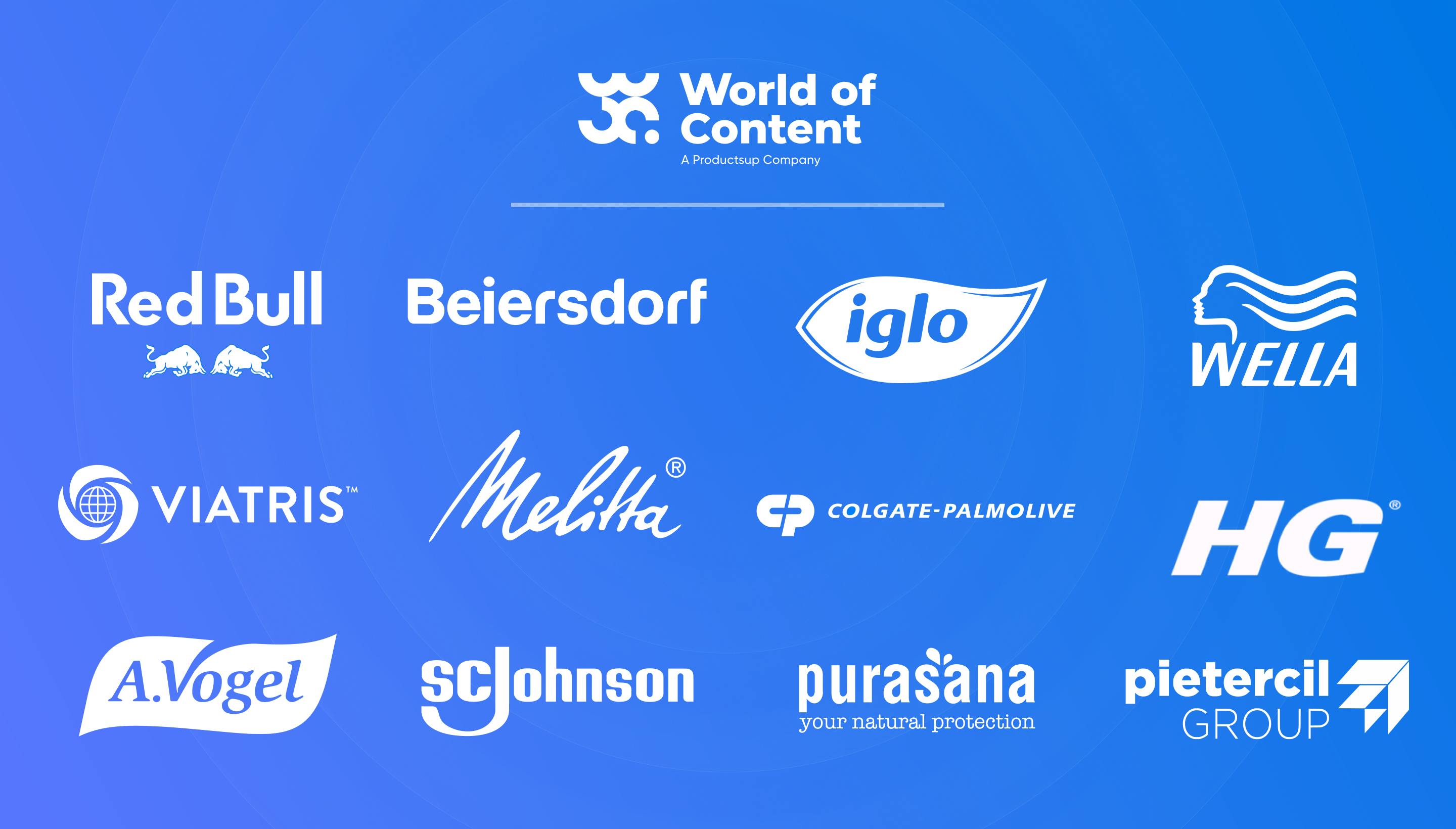 Are you ready for 2023? We are!
Rick Hultermans, COO at World of Content: "At World of Content, we are very much looking forward to the course of 2023. The integration between World of Content and Productsup will be further developed. In addition, World of Content is the main sponsor of the GS1 Global Forum 2023 in February. Successes will be celebrated internally and commercially there is a lot of growth in store. Last but not least: we will take another revolutionary step with our platform. Stay tuned for more!"
Wondering how we can help your business? Request a demo below!