Are you wondering what exactly Digital Asset Management is and why it's essential for businesses today? Are you curious about the ways it can streamline the workflows within your team? In this blog we tell you more about it!
What is Digital Asset Management?
A Digital Asset Management system (DAM system) ensures that companies have and maintain control over their digital content, or in other words, 'digital assets.' Using a DAM Software, the digital product content is stored and managed in one central location. This system can accelerate and optimize processes and has many other advantages! Wondering what this can mean for your company? Then read on!
Digital Assets
Examples of digital assets include: product images, files, logos, designs and videos. This digital product content can easily be imported into the DAM system of World of Content. In addition, the content is also customized for each channel; we show the resolution of the asset and give guidelines on what the asset should look like according to the retailer's standards. Subsequently, the published assets are tailored to the different customer segments. This all ensures that online visitors only see relevant and high-quality content.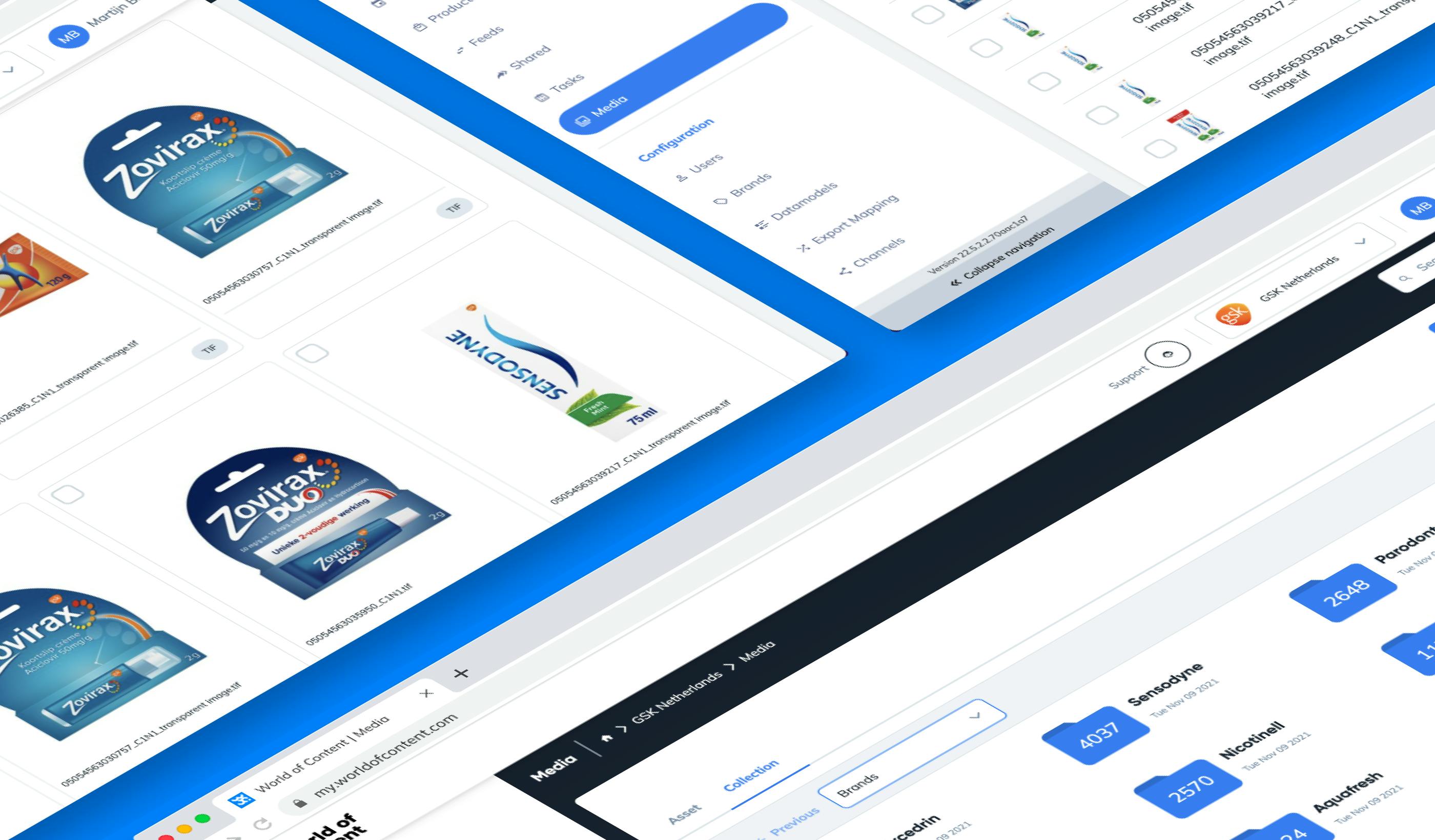 Which parties benefit from a DAM system?
Before delving deeper into the benefits of a Digital Asset Management system, it is first important to name the businesses for which this system can provide outcomes. This answer is actually quite simple: a DAM system is useful for any company that would like to optimize both internal and external workflows in the area of product content. Companies can range from small start-ups to large multinationals.
What are the benefits of Digital Asset Management?
Digital Asset Management has many advantages and has even become indispensable for many companies. Especially for companies with many products and a lot of content, a DAM system is a great solution. Below are some of the many advantages:
Single source of truth
A DAM solution makes it very easy to store, organize and share product content. Through World of Content's DAM tool, files can also be easily converted and downloaded. The main thing is that everyone in your company works with the same data. No more unnecessary emails, no more miscommunication.

Creation of collections
By linking certain tags (summer, winter, mother's day, Christmas, etc) to products, collections are automatically created within the DAM system of World of Content. This is very useful when you want to differentiate the content that is displayed throughout the year.

Saving on costs and time
The time you normally spend searching and organizing product content can now be saved using a DAM system. The operational costs that are normally incurred for this work are thus significantly reduced. All your content can be imported with one click and is available in no time. With the advanced search filters of the World of Content system you will never again have to spend unnecessary time searching and organizing your content.
In addition, the DAM system allows you to link images to certain product content. As a result, all relevant images are automatically 'matched' to these products, reducing the number of manual operations. This makes the process less error-prone and ensures you that all relevant images are displayed for each product.

Data security
Because all product content is stored and managed in one central place, there is less chance of important information being lost. You no longer have to manually send and share your product content. When you do this yourself, there is a greater risk that important content will disappear from external locations such as hard drives. World of Content's cloud solution ensures that all your content is available and secure at all times.

Full control over your product content
With a DAM software, you decide what content to upload and with which platform or organization you want to share it with. You choose the moment when retailers, wholesalers or marketplaces receive your content. Using the flexible Mapping Tool from World of Content, you can also determine exactly which specific content is sent to which channel.
Image recognition
World of Content, through progressive techniques and the application of AI, is working every day to optimize the DAM system. One useful feature that will be implemented soon is image recognition. This process ensures that assets are automatically categorized when they are imported within the platform. This way the system knows right away if an asset is an image of a front/side view of a product, or if the asset is a standing/lying logo, etc. This upcoming feature is one of the many capabilities of Digital Asset Management and aims to make the customer's workflow as efficient and effective as possible.
World of Content and Digital Asset Management
World of Content helps brand manufacturers through a DAM solution to bundle all digital assets in one central location. From this DAM system all assets can be easily imported, exported or downloaded. By means of our advanced search filter you can find the right media within seconds, so that you no longer have to search endlessly between all your files. Finally, World of Content ensures that all interested parties have access to your assets, once they have been granted access by the administrator. This makes the process transparent and guarantees that everyone is working with the most recent assets.
The DAM system described above is integrated into World of Content's PXM (Product Experience Management) platform. The complete content syndication process is facilitated via this platform and ensures both brand manufacturers and online retailers that A+ content is always available across all desired channels in the world. As a result, you always reach your target audience with the most relevant content at any point in the customer journey, which contributes to increasing your online conversion.