In June 2020, Bayer Consumer Health (Bayer), the division that develops self-care products, and World of Content entered into a partnership to optimize Bayer's online product content. For the manufacturer of self-care medicines and other self-care products, this means that they can always offer complete and correct product information on all online channels. This has ensured that, during the orientation and purchasing process, customers come across all the information they need to make a confident purchase.
In 2020, Bayer started syndicating product content to small supermarkets because they were not getting control of this content. After going through a successful pilot, Bayer chose World of Content to realize full product content syndication to all food retailers, pure players and drugstores in the Netherlands. This is made possible via World of Content's PXM (Product Experience Management) platform. In 2021 both parties have chosen to expand the cooperation. World of Content is from this moment on the DMS (Data Management Service) partner of Bayer and ensures that all legally required product information according to the GS1 standards is captured within 48 hours.
A+ content in multiple markets
After achieving positive results, Bayer decided to extend the contract in 2022 and also add the Belgian market to the syndication process. In addition to the developments mentioned above, a number of different projects were also launched to optimize the product content on retailer websites. An example is target group segmentation: three different segment profiles (younger women, older women and generic), were linked to the website of De Online Drogist (deonlinedrogist.nl) via Snapchat and Instagram. Visitors to the website were matched to one of the three profiles, after which they were shown only relevant and personalized product content. This makes it easier for customers to identify with both brand and product. This has a positive effect on online retention and conversion.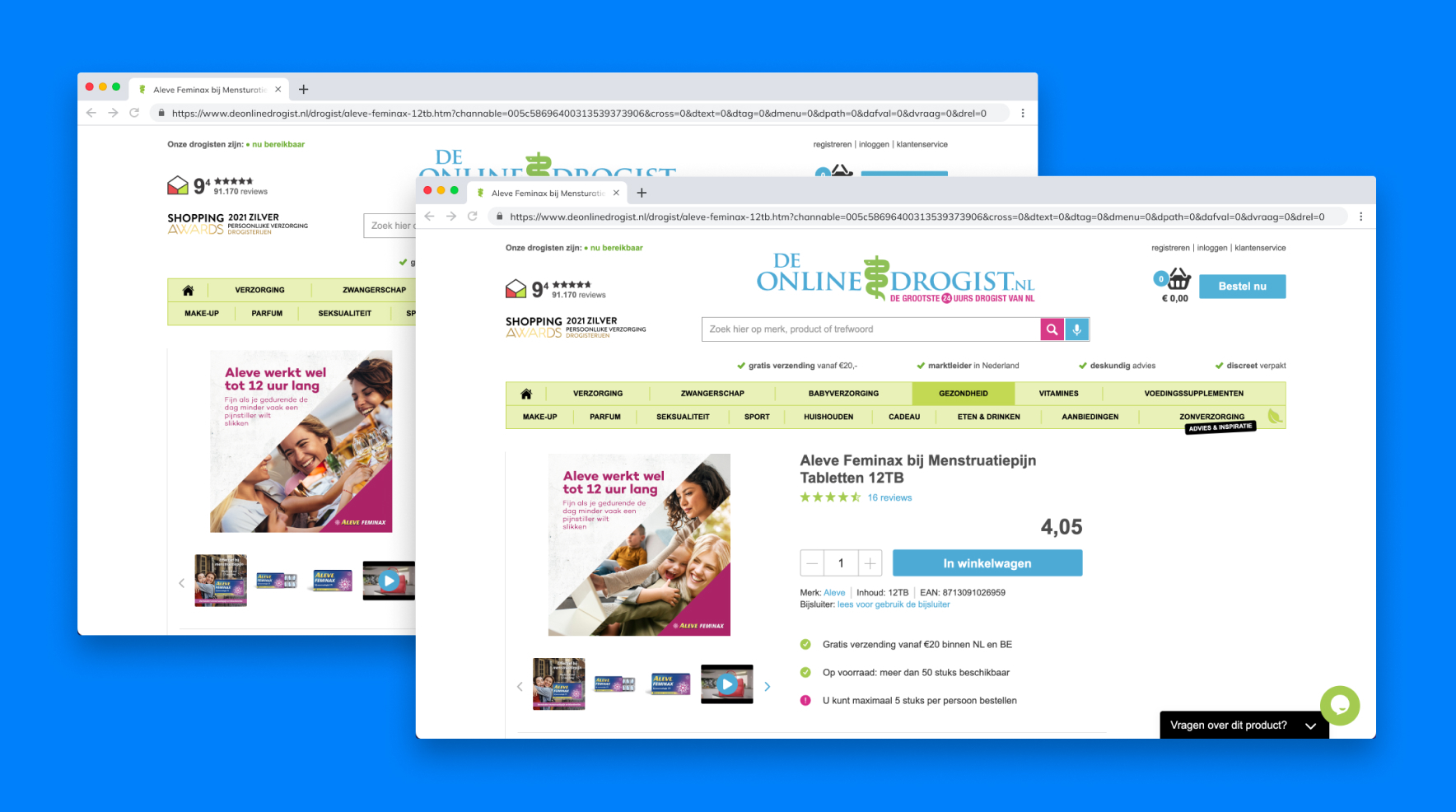 "We are more than satisfied with our cooperation with World of Content. During the past 2 years we have achieved great results. Our online product presentation has visibly improved on multiple channels. We look forward to the coming years with World of Content!", said Harry Miltenburg, E-commerce lead at Bayer Consumer Health.
Since the start of the partnership, Bayer has been able to optimize as many as 885 products across more than 10 different channels. Willem Swinkels, Account Manager at World of Content: "Bayer is one of the largest players in the pharmaceutical industry. Bayer's products are relevant for young and old, which makes correct and complete information a real necessity. We are pleased to be able to offer Bayer the necessary tools for this."
About Bayer
Bayer's self-care products play a role in the lives of millions of people every day by providing effective treatment for everyday ailments. This is important for consumers' quality of life, and also helps to significantly reduce healthcare costs.
Bayer supplies the world's best known and trusted self-care medicines and other self-care products in the areas of: allergy, pain relief, cough and cold, skin and foot care, products for gastrointestinal complaints, products against fungal infections and dietary supplements.
About World of Content
World of Content, a Productsup company, powers e-commerce through smart content management services. Driven by innovation, the platform offers more usability, flexibility and speed in managing product content than any conventional provider. As a GS1 certified company working with over 1,500 brands and retailers, World of Content enables efficient and secure content recognition, content segmentation and product storytelling. Companies can automatically deliver perfect content tailored to individual customers worldwide. Learn more about World of Content's platform here, or request a free demo by filling in the form below.